uCoz White Label Local distributor in the German Internet Market Other kinds of cooperation
uCoz for Partners
We are interested in different styles of collaboration and are looking for partners across the globe!
uCoz

is a website builder that offers a free web hosting with a content management system
We have over

1 million active users

9 years

of rapid development, 8 years of e-market presence
We are an

international team

with a huge bag of experience
We won a range of prestigious awards, including

Mashable and RuNet

We currently have

16 language localizations

and continue to expand worldwide
The most correct way to classify uCoz is to call it SaaS. uCoz is one of the largest web services of the Russian-language Internet and Eastern Europe in general. 5-year e-market presence has truly become a success story. uCoz has not only won the loyalty of over 1 million international users, but also became a laureate of several prestigious internet awards.
We are looking for partners who would be interested in the following types of collaboration:
uCoz White Label
uCoz White Label is a B2B solution for web services and portals, which provides them with an opportunity of getting a website builder under their own brand for their users.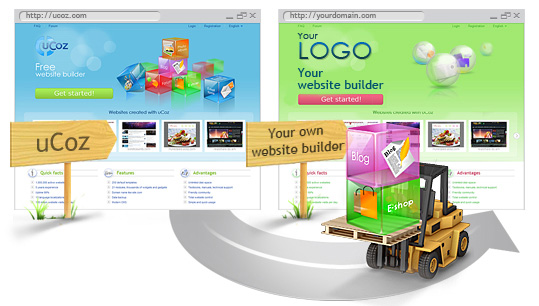 It certainly can bring a great value to both well-known established projects and young, active and ambitious startups.
According to the white label scheme, we commit to carry out all the technical duties: servers maintenance, providing software, upgrades, coaching technical support members.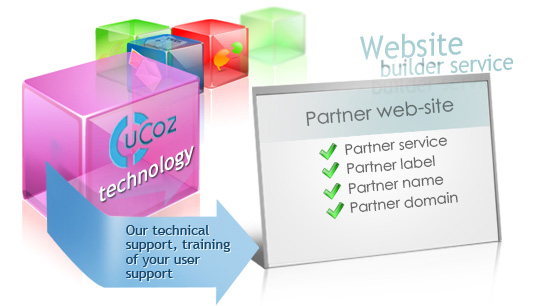 You will be able to customize the product according to your vision and marketing strategy.
Monetization
Basically, any kinds of monetization are available, e.g.:
monetization via displaying ads
premium accounts
additional services like selling domains, games etc.
To get more details about our White Label offer please take a look at the following presentation:
We are looking for a distributor in the German Internet Market!
We need a German partner to facilitate further development of the localization. We are looking for a company who truly knows the German market and understands the German mentality. We expect this company to have sufficient relevant experience, and, most importantly, to express sincere interest in the proposed cooperation. To find details about our service and team, please take a look at the following presentation:
Other kinds of cooperation
We welcome any kind of synergy and are open to any sound proposals. We are always interested in promoting our product, holding ingenious contests, stimulating our partners' progress and supporting mutually productive relationships. We are willing to make money together, be it via advertising or supplementary services.
Perhaps collaboration with your project can become a start of something new and mutually beneficial.
Please use the following form to get in touch with us.